Please read from the upper left picture to the lower right one.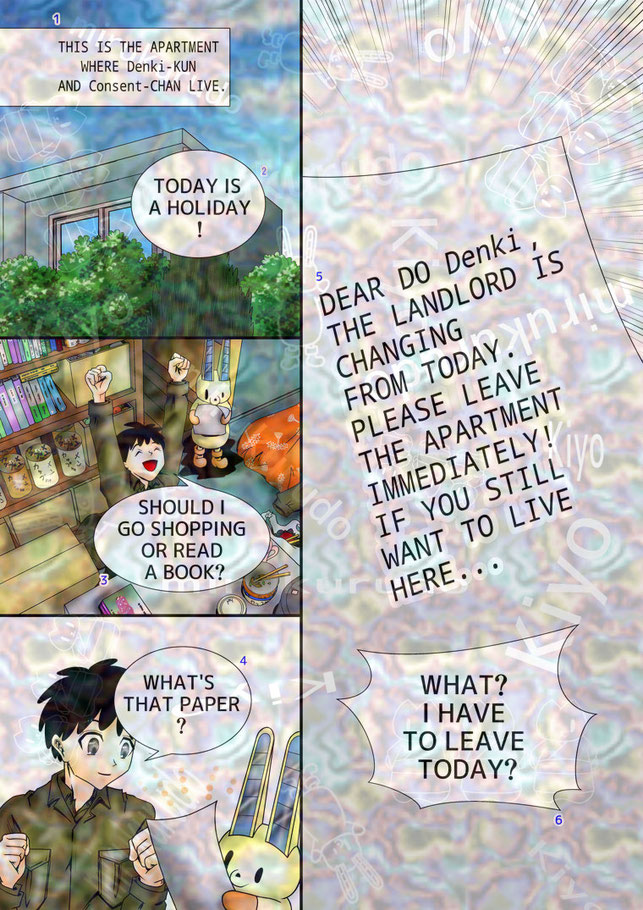 1, Last time Denki-kun switched his cell phone to a smart phone, he was having trouble receiving Consent emails.
2, If you were to help me to appease this shrine god's grudge, I would make it possible for me to communicate with you and your mail.
3, Told so by the child of the god of thunder, Denki-kun cleans this shrine.
4, However, because Consent ate the offerings of this shrine, he had to fight the gods of this shrine.
5, Someone was watching the scene.
6, Six months later ...
7, Denki, this is the new condo building in the next town over!
8, Lovely, isn't it? This is in the shape of a robot!
9, This is Denki's parents' house.
10, Here it is! This is the house where the shrine was!
11, I went out there in the summer to clean it up.
12, Oh, Den-chan, you know this?
13, Apparently the people who cut the trees on the mountain were injured one by one and could not do the construction work.
14, I think the dragon god of that shrine was offended by the construction.
15, That's nice!
16, Let's move!
17, Hey, Denriki! We are not moving.
18, OOWARU Construction Company's condominiums are a hot topic right now, for better or worse.
19, This is the condo that was put up for sale last month, the "flowerpot."
20, Is this an apartment?
21, Each floor rotates, but there were injuries!
22, They should have designed it to be safe so it wouldn't spin.
23, Technology is more important than safety!
24, Hey, Denriki! We are not moving.
25, Robot apartments may walk away!
26, Con-chan, let's eat cookies!
27, The house where that shrine used to be, it's now an apartment building.
28,  I found our guy. We're starting the operation.
29, A message?  Who could it be from?
30, I was grabbed by a group of people called Ohwaru Construction. Please come and help us. Son of the god of thunder
31, The child of the god of thunder has been captured⁉By Ohwaru Construction? Why is that?  Let's hurry to the next town.
32, Ah! That house is gone and an apartment is being built!
33,  DO Denki! I've come for you! Return to me the child of the god of thunder!
34, Really, a rabbit and a guy in work clothes came...
35, Did you guys really come here to read that email? You are the type of people who fall for scam emails and lose a lot of money!
36, You are the child of the god of thunder, but don't let the humans catch you!
37, It is very dangerous here!
38,  God of Thunder...
39, Especially for my master!
40, Master, you must not be caught!
41, Ah!
42, Consent?!
43,  Why are you getting caught?
44, So this is the robot that makes lightning happen. This was easy for us to catch.
45, Hello, I am OOWARU Takeru 17 years old, the 15th president of OOWARU Construction!
46, Mr. President? Such a young boy?
47, Do I not look like a president because I am so young? You have a hard head, don't you, old man?
48,  Old man!?
49, A single lightning strike can generate six months worth of electricity for an average household...
50, A child who lives in this area says he saw a rabbit and a dragon fighting. It's been rumored among researchers, but I never thought that a rabbit-shaped robot that emits lightning was real...
51, I could use that handy little rabbit-shaped robot.
52, This will inject lightning energy into OOWARU Construction's first robotic apartment building, HAKAI-KUN!
53,  What! 
54, Yes, the cannons on both shoulders of this guy will destroy the city!
55,  When the city breaks down, 
56, OOWARU Construction will build and sell it again. We can gain two profits from one action at the same time!
57,  You and OOWARU Construction will get caught.
58,  We just built the building.
59,  Huh?
---
1, Look! Concent!
2, This is a new cell phone.
3, The president of the company provided me with this for company use.
4, Send me an email on this.
5, What a thin instruction manual! How am I supposed to set this up?
6, Okay, I'm done setting up!!!!
7, Consent, let's go buy some food!
8, What do you want for dessert? Cake? Cream puffs? Email me!
9, Why don't you email me? Okay, I'll buy you my favorite coffee jelly.
10, Gaaaah!
11, What's wrong with you?
12, Wonderful lightning!
13, I am a child of the god of thunder. I want to become a splendid lightning generator. Please make me your disciple!
14, Are you the child of the god of thunder? You are wearing a very fancy costume. Is it a current fad?
15, Gaaaah!
16, You are the real god of thunder...
17, I am a child of the real God of Thunder.
18, Oh, is he my master's roommate?
19, Huh? You can't reach him by email?
20, I converted my phone to a smart phone and Consent is not emailing me.
21, You are just now realizing that. My mentor is violently sending out the airwaves.
22, If you can get in touch with Consent, I will do anything for you!
23, Anything?
24, I'm willing to do anything for it.
25, Where are you going by train?
26, We are going to appease the god of the forest who lives in the next city.
27, What do you mean by appease the god of the forest? Isn't the god of thunder the god who punishes those who have done wrong?
28, No, the god of thunder strikes lightning to extinguish bad energy that has built up in people and things.
29, I see.
30,So what does this boy do...
31, I wanted to come to this house.
32, Wow, this is a very green place.
33, My father did not want to destroy the shrine on this mountainside, so he did not sell this land!
34, Do you live in this house?
35, No, I am the son of the owner of this house. I live near the station.
36, Come on in.
37, My mom died and my dad alone was taking care of the shrine and he ended up in the hospital.
38, So, I guess that's why all the bad vibes have built up here.
39, Then I asked you to do the rest.
40, You can use any of the tools here. Use these to cut the trees, cut the grass and clean the shrine.
41, What?
42, After cleaning, please offer these dumplings to the shrine.
43, My dad says the god of the shrine likes these dumplings.
44, Well, thank you for coming on such short notice, Mr. gardener. And take care of the rest!
45, I am not a gardener!!!!
46, Also, better not let the kids wear fancy costumes!
47, The grass is all over the place!
48, I sense a shrine grudge.
49, Look, a black mass on top of the mountain!
50, No, I don't see it at all.
51, Can you make that lump disappear with a bolt of lightning from Consent?
52, Yes, once the mountain is cleaned up, Consent will send out lightning to put it out!
53, What's wrong, Consent?
54, Was there a grudge?
55, There seemed to be a bug.
56, Insects abound in the mountains in summer.
57, You see, I sprayed a lot of insect repellent and put on mosquito coils!
58, You stay quiet.
59, Well, I guess I'll just keep cleaning.
60, What kind of god is enshrined in this shrine? 
61, Does the god of this shrine have any blessings?
62, Of course!
63, A long time ago, a young man came to this area to get firewood
64, Hmmm, so?
65, and was almost attacked by a wild boar, 
66, but was saved by a tree that fell just in time!
67, Since then, this tree has been enshrined here as a tree of help to others!
68, Just a tree!
69, This is ridiculous. I'm going home.
70, ????? This is a fine tree that has helped people...
71, I don't have to clean the tree, just leave it where it is.
72, That's how it is with people.
73,People are grateful when you help them, but they soon forget to thank you.
74, Voices in my head!
75, God of the mountains, forgive him. This man has forgotten his purpose, which is to make the robot's voice heard.
76, Oh, that I had forgotten about that! I need to clean this pile up!
77, These tools are clean, and I'm finally done cleaning!
78, Hurry up and offer these treats!
79, Isn't this box of candy light?
80, Ah! This box is empty!
81, Consent, did you eat all these sweets!
82, This is the god of this shrine.
83, oh no!
84, I will not allow anyone...
85, to eat my sweets...
86, Consent, you must run! Don't let the dragon spit water on you!
87, Robot vs. Dragon God
88, This is a dispute over candy.
89, Please extinguish the black shadow emanating from that Dragon God with that lightning!
90, I do not see it.
91, Really?
92, Consent may break down if exposed to water
93, Ha ha ha, out of bullets...
94, I am God. I'm not out of bullets.
95, Watch out, Consent!
96, I see the fireworks display has started at a nearby river.
97, Fireworks...
98, I like fireworks that are set off by humans...
99, Oh, it's gone!
100, Fireworks have the power to appease grudge spirits...
101,  After that...
102, In return, I will allow you guys to communicate.
103, " My battery is dead. Take me home."
104,  Denki-kun is now able to communicate with Consent successfully
---