Please read from the upper left picture to the lower right one.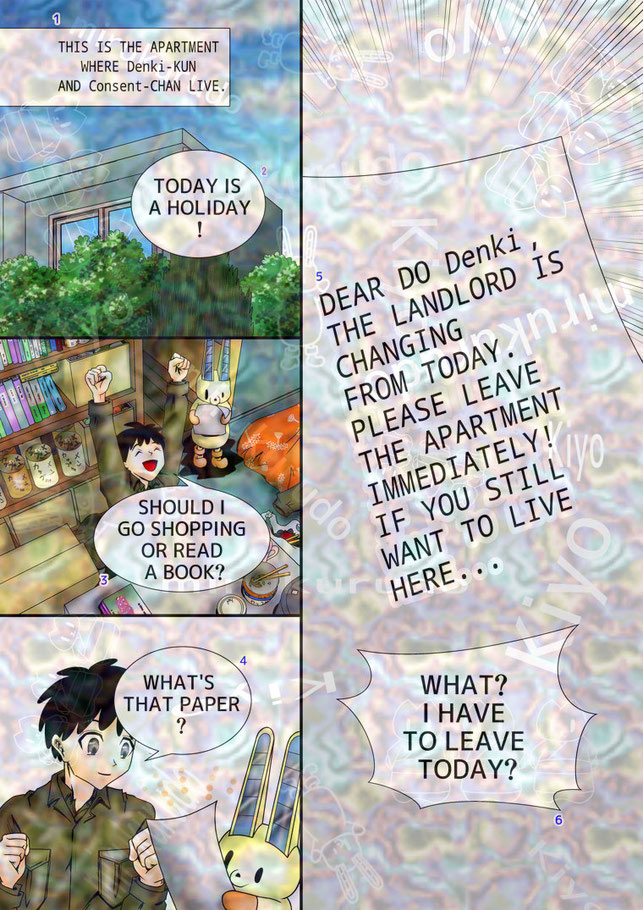 1, This is the Kouotsu Denki Corporation Company, located in the suburbs of Tokyo.
2, They are doing paperwork.
3, I have to draw an electrical wiring diagram for submission.
4, At the noodle shop I went to yesterday, they forced me to eat watercress.
5, HAKOIDE Souta: Denki's senior at work. He's not good at paperwork.
6, You don't think this is a terrible thing, do you?
7, I have to submit this in three days.
8, Hey, there's a phone.
9, Our boss wants us to come to Akihabara with LED bulbs.
10, Let's go, Denki!
11, Huh? But I haven't finished the drawing yet…
12, Akihabara: This is Japan's famous electronics district. You can find anything related to electrical work here. Nowadays, it is also known for anime and idols.
13, We will meet at 1pm in front of the toilets on the third floor of the Nihon building.
14, It was now twelve o'clock, so we had arrived early.
15, Nihon's building! This is so disgusting! This is making us look like idiots!
16, The Nihon's building was an interesting place to visit.
17, What the hell kind of building is this?
18, I don't know...
19, This is the Nihon's building.
20, Let's go, Denki!
21, Yes!
About Nihon's Building 
Nihon's Building is written as "NIHON NO BIRU" in Japanese.
"NO BIRU", a grass with the same reading, is used as a motif.
It is a grass like this.
You can eat this.
"NOBIRU" has the meaning of increasing the height or length of an object, or increasing the ability of a person.
22, Welcome back, master!
23, Please leave your valuables with us.
24, These guys are going to take my wallet.
25, Aah! Master Green! You don't have a credit card of your own, do you?
26, Green, Denki, that's you.
27, Yes, I only have a loyalty card for my local supermarket.
28, What's wrong with that?
29, We only accept credit card payments in this building. We will provide you with a card that you can use today only. For this reason, we will look up your address from your wallet.
30, Oh, my God! How dare you?
31, We will not misuse your address that we have looked up! You'd better look for some better clothes!
32, I guess we shouldn't have come in our work clothes.
33, Hmm? Are those penguin-shaped robots?
34, This concludes our 48 prefectures elevator trip. Do you have any questions?
35, HAHAHA, the penguin robots are doing employee training.
36, Is this the first time you guys have been in this building?
37, Nihon's Building was named to be tough and useful like the weed NOBIRU! 
38, (Note:) NOBIRU: A weed that can be eaten like a leek.
39, Why don't you go to The Restaurant That Never Takes Orders on the 12th floor of this building?
40, These guys just learned this place, they're so motivated!
41, Let's see, we need to go to the bathroom on the first floor...
42, Toilet, huh?
43, These guys are not customers!
44, You seem to be in no hurry. Let me take you to the bathroom.
45, Welcome to the fashion magazine room.
46, Please choose your favorite clothes in the mirror!
47, Oh… 
48, You guys look like a nice couple to me.
49, We're just co-workers!
50, You two are wearing the same clothes, and yet...
51, Doesn't this guy know what a work uniform is?
52, I was relieved to see my reflection in the mirror, wearing normal clothes.
53, Wow!
54, I wish I could go jogging in an outfit like this!
55, You have a good eye!! This outfit is multi-purpose futuristic luxury sportswear!
56, This outfit can measure your blood pressure, heart rate, blood sugar and body fat, and gives you a massage after your workout. This outfit is truly the sportswear of our dreams!
57, This is amazing!!!
58, Is this sportswear for the elderly?
59,That's a million yen!
60, It's expensive! I can't afford this!!!
61, Times are tough right now! I sympathize with your feelings! That's why...
62, Nihon's Building, change!
63, The mountains of Hakone are the steepest in the world! 
64, The slopes of Hakone have appeared in Nihon's Building! If you can run up this slope to the top floor, you can buy that wear for 100,000 yen!
1, About Hakone Ekiden (Hako0 Ekiden is based on Hakone Ekiden)
   note:Ekiden is a relay race that uses a sash (string) instead of a baton.
2, The Hakone Ekiden is an intercollegiate relay race held on January 2nd and 3rd every year. Twenty universities, mostly in the suburbs of Tokyo, participate.
3, On January 2, five athletes will head from Ootemachi in Tokyo to Hakone, a hot spring resort in Kanagawa Prefecture, and on the following day, January 3, five athletes will relay back to Tokyo.
4,The Hakone mountain climb, which the athletes will run on January 2, is a popular section of the race among the people because it takes them all the way up a height difference of 874 meters.
5, The next day, we will see if the athletes from each university can complete the race, and if that university will be able to participate in this Ekiden again next year. This is the highlight of the race.
6,Many of the athletes who participated in this relay race later became representatives in international competitions such as the Olympics.
65,Will you accept this challenge?
66, Yes! I, HAKOIDE Souta, was born to run a marathon!
67, I accept this challenge!r feelings! That's why...
68, Now, please sign this contract!
69, Ready, set, go!
70,Hmm? A contract?"If you abandon or walk in the middle of this race, you must buy this wear for one million yen."
71, That man should not be able to run.
72,That man will never be able to run the race.
73, Why? flathead screwdriver
74, Let's see, this building is actually capable of doubling in height.
75,  What?
76,  Does Souta have to run to the 24th floor? 
77,  Consent! We'll take the elevator to the 12th floor!
78, I'm almost to the twelfth floor!
79, Hmm, Denki!?
80, This slope extends to the 24th floor!
81, Is this extended?
82, Will you be able to run all the way to the 24th floor?
83, I wouldn't be able to run to the 24th floor ..
84, I'll have to use that.
85, Souta looks in pain.
86, Denki! I got this for you!
87, What? Souta is holding a sash.
88, Do I have to run too...
89, And so the two of them and one robot ran and ran...
90, Goal !!!
91, I didn't think you had a sash.
92, You have done your best.
93, I carry a sash instead of a handkerchief.
94, Does he wipe his hands with a sash?
95, This is a congratulatory gift for you.
96, Oh!
97, In his wallet, I found a receipt for watercress noodles.
98,  You don't need to see that.
99,  At that time
100, Hakoide, Denki, what's going on?
101, The president, who had already changed the bulbs, was worried about them.